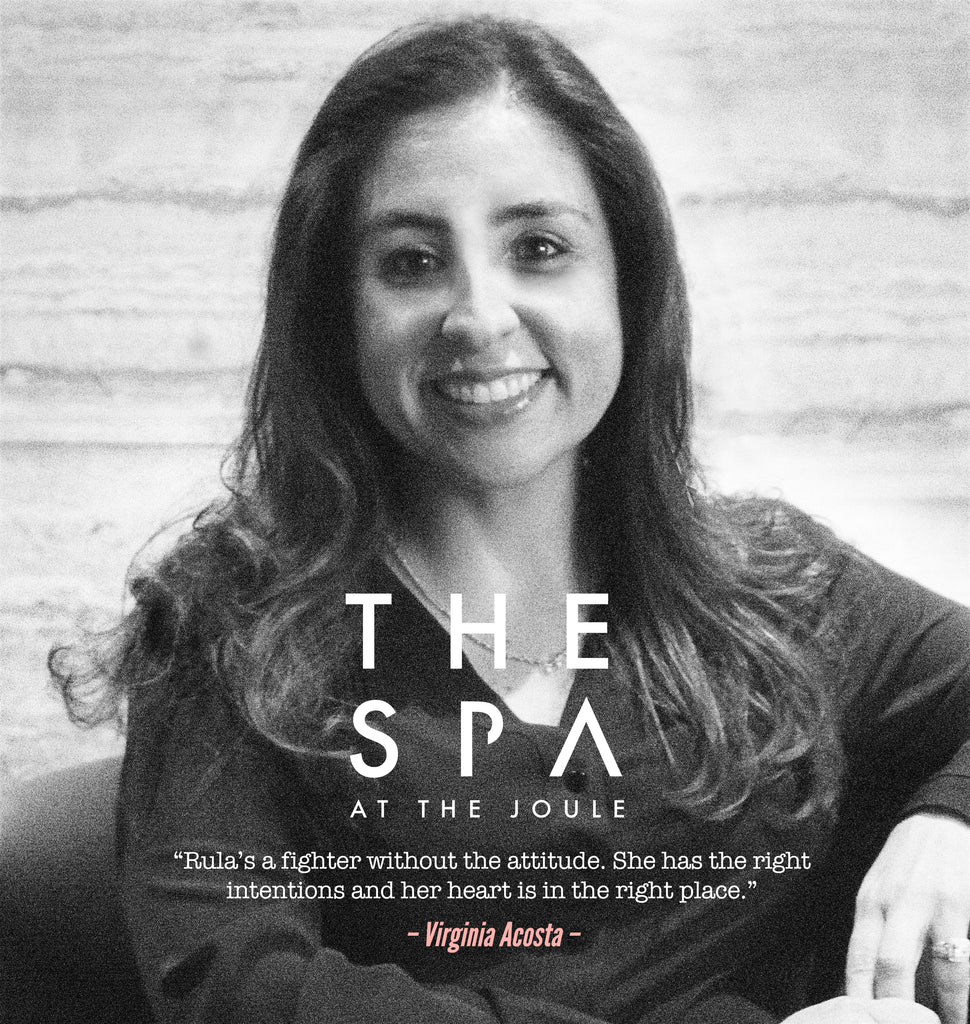 Behind every powerful woman is an influence, a mentor, a motivator – a special someone who pushes that woman to try harder and work harder. For Rula, that woman is Virginia "V" Acosta, Director of The Spa at The Joule Hotel in Dallas, TX.
The two met nearly 12-years-ago when Rula started working as a front desk coordinator at the Hotel Zaza in Dallas, where V was the spa director. Rula came in like an ambitious lightening rod. She was driven, determined and incredibly focused, and V could sense she had the mentality of a visionary.
"When I met her, she always gave me 100 and more," says V. "Her dedication at that front desk, it's like she didn't take anything for granted. She knew what she needed to gain by being at the front desk, she knew that it was going to bring her some good, and it did."
V went on to explain that Rula wasn't a talker – she was a doer. She was the kind of woman that came in and worked with stamina, and without complaint every single day. She took on every task with focus because she knew those small tasks would contribute to her future. 
She knew everything was building the woman she would eventually become, especially with V by her side. "I just saw V as a motherly, best-friend figure at the time because she was so easy to talk to and always so inspiring," said Rula. "Always pushing me to the next level from the very beginning. I wasn't even an aesthetician at the time, but I worked my way into the facial room because she was the one that pushed me and helped me train even more."
Rula had always had a passion for skincare and they separated for a brief period of time when Rula became a skincare instructor at an aesthetic school. She found a passion in leading, guiding and teaching in the same ways that V had guided her, and just like her first job, she saw teaching as a learning experience. Every day was building her skills and crafting her future.
Then, about 5 years ago, V's own career led her to becoming the director of The Spa at The Joule Hotel – one of the most exclusive spas in the country – and Rula was one of the first people she called. 
"She's my most respected therapist and I called her almost immediately. She's an extremely successful aesthetician and it shows. Her clients fell in love with her."
Rula's standout style and focused professionalism had landed her a well-deserved spot at one of the best spas in the nation. She had a unique touch, a friendly personality and an ambitious and determined work ethic. 
Suddenly, the Joule's atmosphere and V's unending support sparked something in Rula. Her attention to skincare and appreciation for brows gave way to a moment of clarity… something was missing from the Joule – a revolutionary product.
She was servicing so many women who desired the trendy full-brow look after years of plucking and waxing, and realized no product existed that could help create this desired effect, and considering that the Joule was one of the most high-end, exclusive spas in the country – shouldn't they have the solution?
So, Rula went to work and she hit the ground running. "I said, 'you know what, I need to have my own cosmetics line.' It just hit me. I knew this is what I wanted to do and this was my calling. It all suddenly made sense."
Thus, Rula Cosmetics was born and Rula and The Joule were a perfect partnership. "We couldn't not have Rula Cosmetics at The Joule," says V. "She was already giving us so much advice with 'Rula's Rules' so when her line came along… it was natural. We had to have it. We needed it."
Now, thanks to Rula and Rula Cosmetics, women visiting The Joule can finally achieve the sculpted full-brow look they desire.
Rula acknowledges V as, "the reason for all I do. She's the one that sees my potential and sees my worth and pushes me even if I say no. I thank my lucky stars every day that I have such an amazing person like her by my side."
V on the other hand? Well… "I will not take one bit of credit for all of her doing. Rula Cosmetics is truly on Rula's dedication and her excellent product. The Joule has only been her biggest fan." 
And the rest is cosmetics history.
You can find Rula Cosmetics exclusively at
The Spa at The Joule Hotel,
1530 Main St, Dallas, TX 75201.